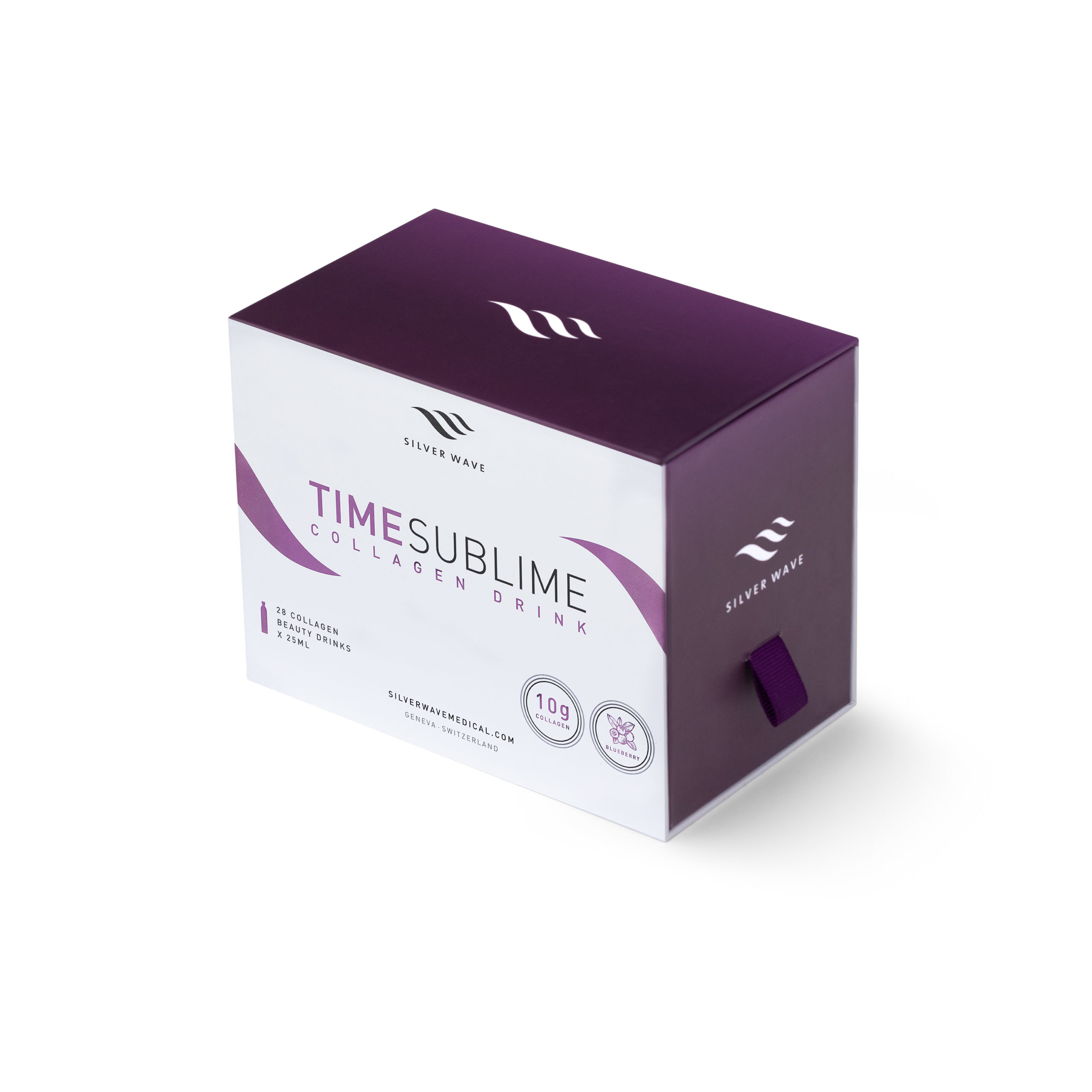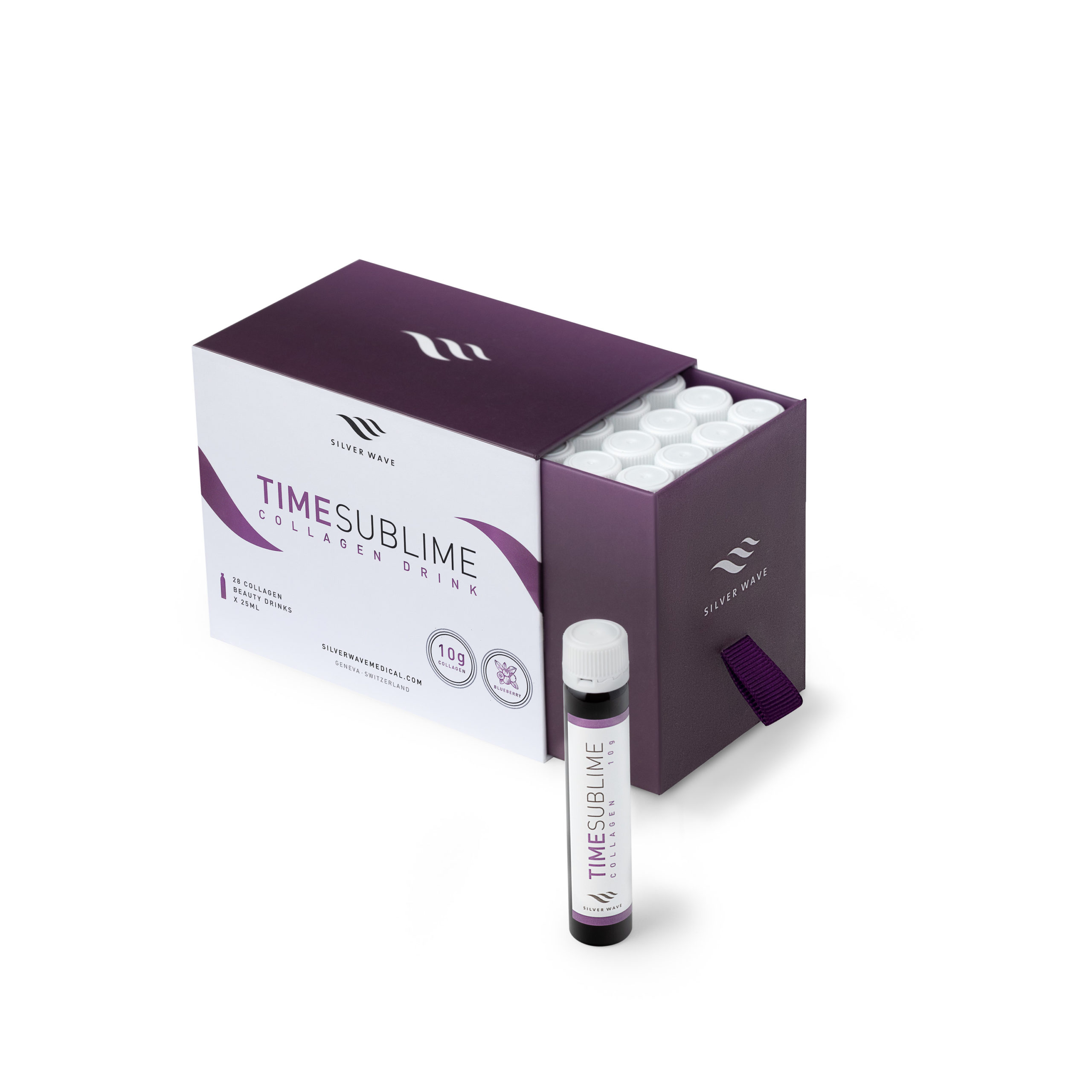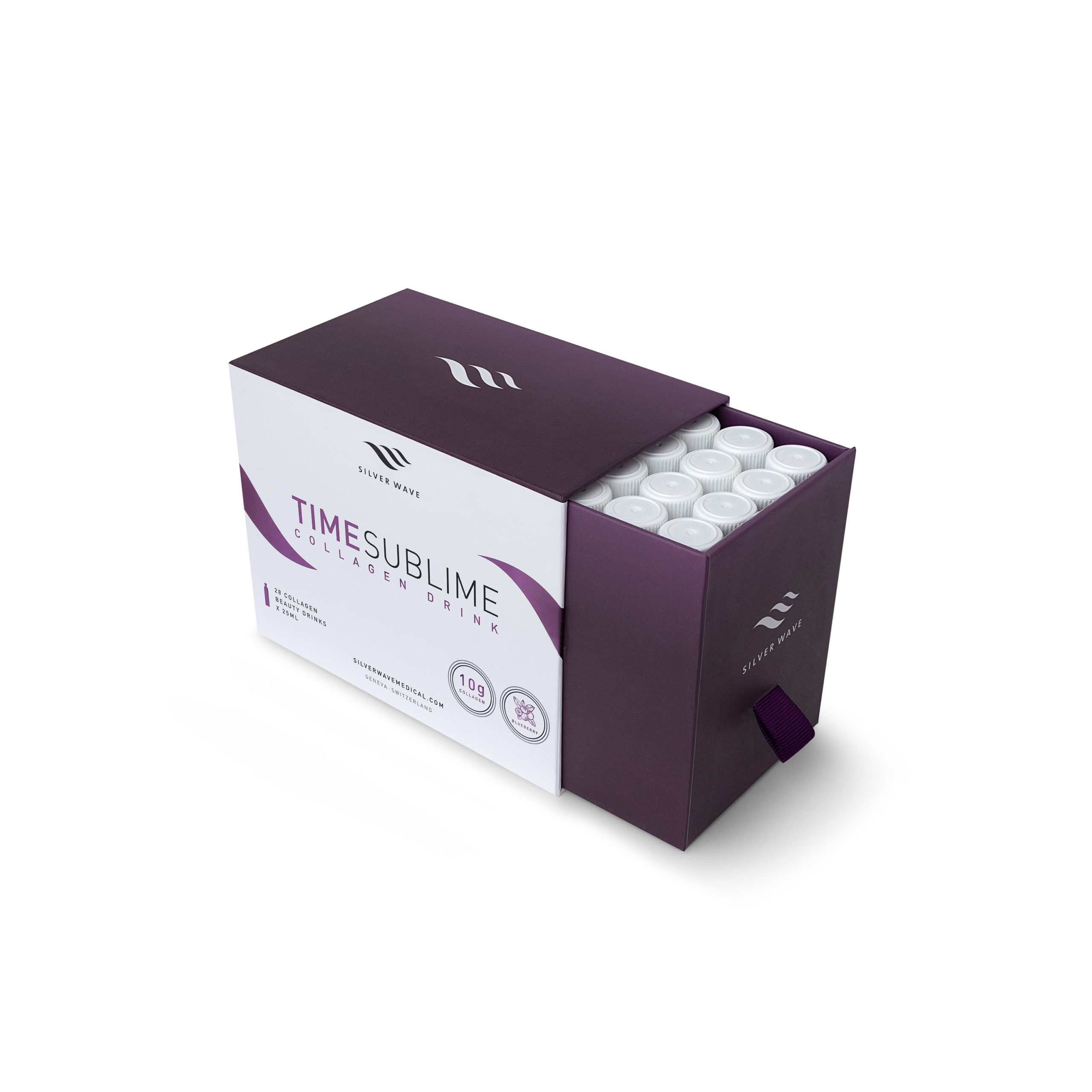 TIME SUBLIME COLLAGEN DRINK
CHF 134.00
Added to beauty bag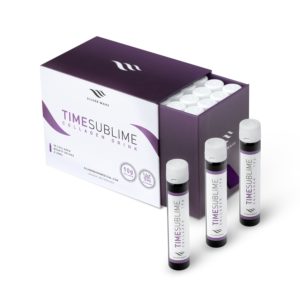 Supplementary products
Swiss Quality
Founded by expert profesionnals from
the pharma & medical device industries

SHIPPING COST
FREE shipping from 100 CHF
DELIVERY & RETURNS
2-3 business days delivery & FREE
RETURNS within Europe

Drinking hydrolyzed collagen stimulates your own collagen production and improves the quality of the skin.
Smoothing of wrinkles
Firmness
Elasticity
Hydration
Collagen restructures the skin from within : improves elasticity, reduces wrinkles and hydrates the skin (of face and body).
Hight Performance Ingredients
No artificial coloring
Fresh blueberry taste
Without added sugar
No sweetener
Gluten free
No dairy products
Capacity: 28 x 25ml
Drink 1 vial per day preferably before breakfast, for 1 month minimum.
For more visible and longer lasting results, a cure of 3 months is recommended.
The formula of TIME SUBLIME Collagen Drink contains a high concentration of VERISOL® collagen, a natural protein whose efficacy has been clinically proven. Several clinical studies involving more than 100 women have shown significant improvement of skin appearance: higher skin elasticity, reduction of wrinkles, improved skin surface structure.  
Proksch et al. (2014) Skin Pharmacol. Physiol 27 : 113-119
Proksch et al. (2014) Skin Pharmacol. Physiol 27 (1): 47-55
Schunk et al. (2015) Journal of medicinal food : 1340-1348
Hydrolyzed collagen 10gr,
Vitamin C,
Vitamin A,
Vitamin B8,
Vitamin E,
Zinc
Great results fast and durable!
"I had visible results and compliments after 2 weeks, it was a super original Christmas gift idea."
Skin, hair and nails in great shape!
"I feel an effect not only on my skin but also on my nails and hair. I will continue the treatment because I feel it is doing me good."
My best beauty & anti-aging ally
"Very pleasant to drink and very digestible. The results are visible from the 2nd month of use: Smoother, more elastic skin with less fine lines, rested mine. My buttons and tasks are gone. I am a fervent admirer of this product and I will redo a cure as soon as I return to Switzerland."
I feel the effect on my whole body
"I feel like since taking the Time Sublime Drink, I have more energy and better looks. "
Really happy with my first cure!
"I just finished my first box and I must say that the experience is very pleasant. I really like the taste and am happy to take my little bottle every morning. "
Easy everyday and very efficient
"Simple and effective are the two words that come to mind. The taste is excellent, the size of the bottle very practical and the effect on my skin is impressive. "
My favorite of my morning routine
"I am 35 and I am happy to have found a product which is very easy (even faster than a cream) and fun to use even on an empty stomach. This gives relatively fast good looks, in 15 days: the lines are less drawn, the cheeks more plump. I have less need for make-up."
I am delighted with the Time Sublime Collagen Drink
"I am delighted with the Time Sublime Collagen, I started the second box and I really see already a difference on my skin. At the level of the joints too. I no longer have pain in one shoulder even though I had been dragging this pain for months. »
Ingredients
ACTIVE INGREDIENTS
Hydrolyzed Collagen 10g: Collagen is a naturally occurring protein in the dermis, forming the major structural component of the skin. It has many anti-aging properties and allows the skin to stay firm and elastic.
Vitamin C: Contributes to normal collagen formation for the normal function of the skin.
Zinc, Biotin and Vitamin A: Help to maintain normal skin.
Vitamin E: Helps to protect the cells against oxidative stress.
Time Sublime Nutrition Facts
| | | | |
| --- | --- | --- | --- |
| | NUTRITIONAL VALUE | PER 100 ML | PER BOTTLE |
| | Energy | 719 Kj / 193 Kcal | 180 Kj / 48 Kcal |
| | Fat | 0,34g | less than 0,1g |
| | Carbohydrates | 11,5g | 2,9g |
| | Protein | 38,3g | 9,6g |
| | Salt | 0,5g | 0,1g |
INGREDIENTS
Purified water, Hydrolyzed collagen, Blueberry juice concentrate, Acid: Citric acid, trisodium citrate, Blueberry flavour, Ascorbic acid (vitamin C), DL-alpha-tocopheryl acetate (vitamin E), Preservatives: Sodium benzoate and potassium sorbate, Emulsifier: Soy lecithin, Zinc sulfate, Retinyl acetate (vitamin A), D-biotin (vitamin B8)